It is hard in character with its fjords and mountains; Montenegro
The dark blue waters in the shadow of steep mountains, a magnificent nature that you can explore on foot, and the hospitable people who realize that the future is in tourism … Although it remains in the shadow of its close neighbors, Montenegro's star is shining more and more every day …
You woke up in the clean, comfortable bed of your hotel. You sprinkle cold water on your face to regain yourself. Then open your curtains and windows. While filling your lungs with the clean Mediterranean air, turn your gaze to the sparkling sea, the bay smiling at you and the yacht anchored in the distance. Your drink will be filled with peace. If the Adriatic coast is beautiful, this bay is a diamond-studded supermodel! Croatia? Not really. Or did you say Slovenia? You walked away well. Be sure, you have already remembered the full-length photos of those places over the years. This is Montenegro. If this answer leaves you with question marks, how happy! This tiny Mediterranean country will soon be among the giants in the neighborhood and become a recognized and formidable competitor in the tourist attraction. an amount not know if these former Yugoslavia is still a mystery to the rest of the world in Turkey. For this reason, you can now enjoy the huge areas that can still only belong to you.
Discover Sveti Stefan
I guess Montenegro's unmatched beauty appears in few other places as in Sveti Stefan. An islet separated by a small road raised above the sea for 500 years from houses resembling fishermen's huts on the main shore; until the Communist rulers of post-war Yugoslavia decided to make it a stopping point for world celebrities who came to tour the Mediterranean. If you had the opportunity to travel around 60's and 70's; Hearing the footsteps of Marilyn Monroe, Sophia Loren and Princess Margeret on the cobblestone pavement; You could have witnessed Richard Burton and Elizabeth Taylor's famous heated fights.
Celebrities have a lot of interest
Villa Milocer, on the shores of Sveti Stefan, built as a holiday home for the Yugoslav Karadordevic family in the 30s, was later transformed into a summer house by Tito. It was restored a few years ago by Amanresorts as a small show of Sveti Stefan. A night spent here will provide you with an example of Montenegro's excellence. With a population of less than a million, this small country has already begun to take its place on the vacation routes of travelers slowly but surely. Among the rumors of Madonna's visit, Catherine-Zeta Jones and Michael Douglas looking for a house, who knows how long Montenegro will preserve its tranquility and beauty.
Mini Dubrovnik: Budva
So, what awaits you in Montenegro beyond Villa Milocer and Sveti Stefan? If you want, you can rent a black Mercedes S in Madonna style or drive a more economical car to stay unobtrusive and fit a little more. Lower your windows, put on your sunglasses, fill your lungs with the scent of green and blue, and get carried away by the coastline. For example, go north by following wide roads; To Budva. It is now very popular, surrounded by a large marina and ramparts; Budva, which used to be just a poor fishing village, now deserves the nickname mini-Dubrovnik. Thanks to foreign buyers, it is a popular holiday destination that attracts Europe's richest people like a magnet.
When you continue, the road will take you to the port of Kotor, perhaps. Just a few kilometers from the Croatian border; but there are worlds between its make-up charms. Yet there are harbingers of an international invasion. However, neither medieval walls nor super yachts anchored at the bottom are effective next to the hills rising hundreds of meters of the largest fjord in Southern Europe. Silence. However, if you want complete peace of mind, it might be a good idea to go even further.
To the top of the fjord
When you cross the winding roads and reach the top, take a look below. You can see the port of Kotor and a fleet of super yachts replacing the Yugoslav navy. When you look at it, you can see the near future. Quality holiday homes, a large marina, an expensive hotel for Madonna and Michael Douglas followers. This image materialized in front of your eyes may disappear instantly as it exists. All you have to do is leave yourself in the arms of the winding roads again. A few tunnels, a few bends and the sea are behind you. As you move forward, Montenegro takes you to the pine-scented Adriatic past; The evergreen forests, shady cypress trees and suddenly the top of the mountain II. Petar Petrovis leads to the mausoleum of Njegos. Park your car and proceed with your footsteps, peeking through the almost treeless hills.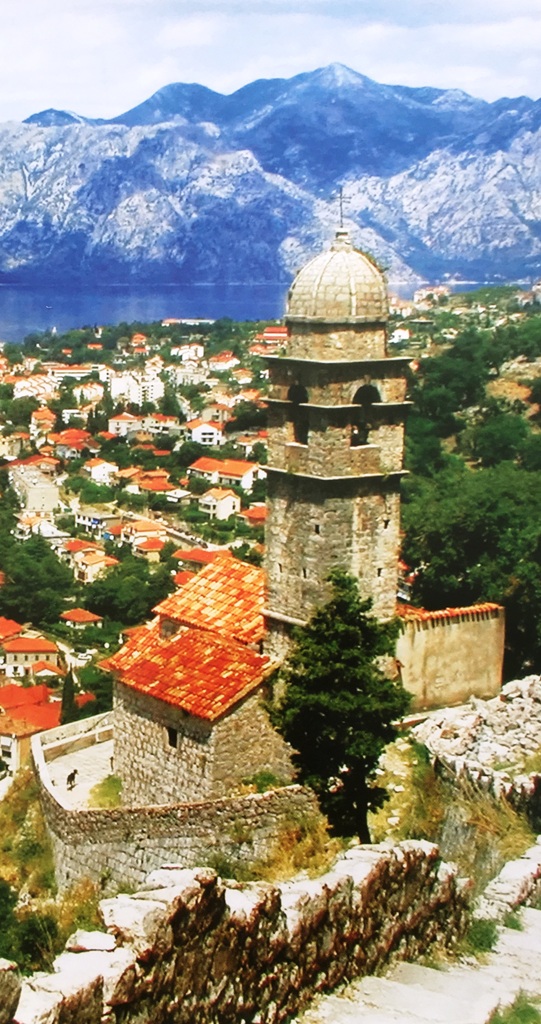 The old capital, Cetinje
Petar is a big part of Montenegrin culture; He came from the noble family of Petrovic-Njegos. He was a bishop-prince, poet, and sniper. Its imposing statue made of gold leaves and black marble dazzles with all its splendor at an altitude of 1660 meters, on the second highest mountain in the country. Bringing secularism to Montenegro, II. Petar was born in Cetinje, 12 kilometers away. This city, which the modern world has not touched yet, has emerged from fairy tales; It was the capital of the country between 1878 and 1918. Its population is only 20,000. This city, whether we call it a town or not, invites you to an extraordinary tranquility with its faded facades and squares decorated with trees on both sides. Before it was swallowed by Yugoslavia, this city had filled all the big countries, the small city with their embassies and representatives. You can still see the cute and weird embassies on the city maps from any point.
It is part of the French Embassy National Library, with its coat of arms above the British Embassy door, now the University of Montenegro Music Faculty and the Bulgarian Embassy are a modest restaurant.
Sandal pleasure …
Walk … walk and walk. What can you do but admire the surroundings in this remote part of the Adriatic? Your heart and steps may have brought you to the small town of Rijeka Crnojevica. A stone bridge elegantly placed over the Crnojevica river, several cafes scattered around; have someone sit down. Order the finest local food from the communist-era waiter whose face is troubled. Sit outside and enjoy the magnificent view, to which the stone bridge is also invited, while sipping your wine and eating your meal slowly. You can sit for hours; but now it may be time to return. However, there is always time for a final kayak tour. Immerse yourself in the murmur of the boat's diesel engine, the setting sun and the giant water lilies. Listen to the whispers of the 20th century; The 21st century is just a distant dream. Don't be alarmed when suddenly a worn hand on your shoulder calls you today. Maybe the boatman invites you to swim. What could be better than diving into crystalline waters to end a day when green and blue unite. Even if you don't have a bathing suit! Swim slowly and immerse yourself in the refreshing waters of a Montenegro river that might soon disappear. As Lord Byron said, "this country is the greatest encounter of land and sea". But hurry up and visit Montenegro; before the boatmen stop offering to swim just because it's a good day.