Nantes, which is known as a port city built on the Loire River in France, has gained a completely different appearance as one of the most colorful cities in France today.
Nantes streets were decorated with magnolias and the old city center was energized. Both sides of the river gained a brand new look with improvement projects. The facades of many buildings in the city were repainted, giving the city a brand new and fresh look. Nantes, especially from neighboring countries, is flooded by visitors who come to the city to spend a colorful weekend.
Where to see, what to do?
Start your day at La Cigale. This is one of France's most beautiful Brassenes. You will love Art Deco furniture and accessories. Classical French breakfast is served as food. Be sure to try a glass of Muscadet wine, accompanied by smoked salmon prepared with coriander, cream cheese and tomato confit.
Your next stop is Place Graslin. Here, there is a historical theater from the 18th century, you will travel through history while wandering between the Neo-classical style building and courtyards. When you turn the corner, you will see the Passage Pommera. The arcade built in Baroque style in 1843 also provides information about the commercial shopping of those years.
Don't forget to visit Chateau des Ducs de Bretagne. This French fortress was under British rule until unification in 1532. Its medieval walls are worth seeing. There is also a museum inside the castle. In the museum, between the years 1700-1830, merchants from Nantes brought 400,000 women, men and children from Africa to the new world as slaves and the slave trade in those years.
If you want to see a magnificent view, climb the LU (Quai Ferdinand Faure). Here, be sure to taste the famous biscuits of France. Also, don't forget to stop by the art center, bar and restaurant.
Visit Place St-Pierre in the medieval Bouffay district. You can visit this Gothic cathedral for free. It is worth remembering that it is a more flamboyant structure than Notre Dame. Your next stop is Place Royale for a drink in the open air. The female silhouette at the fountain in the middle of the square represents the city of Nantes completely. It looks even more impressive in night lights.
After dinner, cross the river to lle-de-Nantes Island in the Loire. It was once a center for port activities and shipbuilding. "Hangara Bananes", which used to be a banana warehouse, is a fun area with many bars today. Not without stopping by Machines-de-l'lle Workshops while you're here. Riding the famous mechanical elephant of Nantes will be a fun experience.
Another must-see is the Musée des Beaux-Arts. In the museum, there is a large art collection where the first examples of Italian art as well as modern art are exhibited. You can then return to La Cigale and continue our afternoon with tea pleasure.
The Musee des Beaux-Arts
10 Rue Georges Clemenceau
www.nantes.fr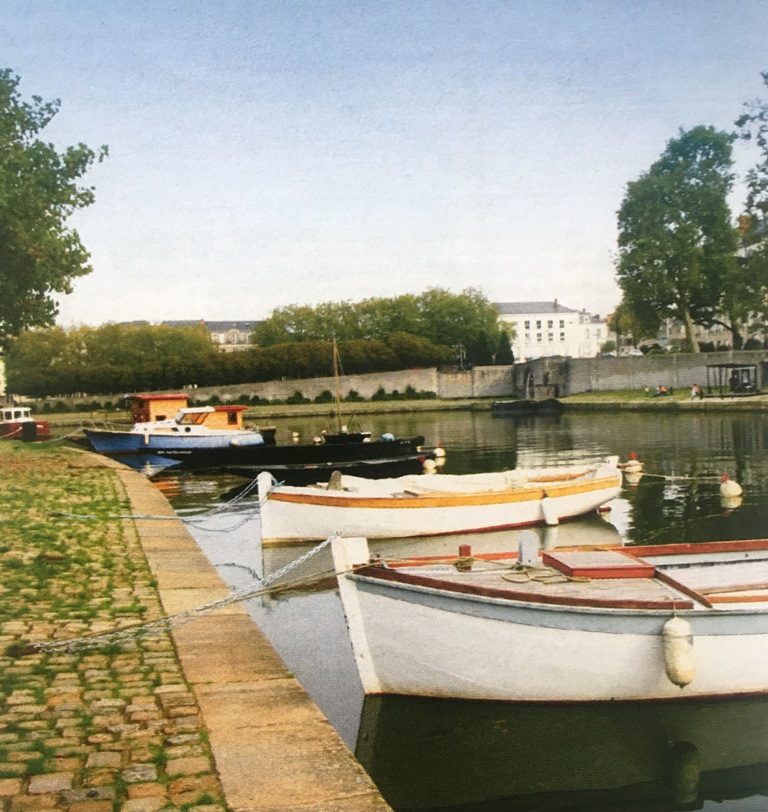 WHERE TO STAY?
Hotel Pommeraye
The lobby of Hotel Pommeraye, which has been converted from an old bourgeois house to a hotel, is decorated in shades of white and purple. It draws attention that retro and modern colors are used together in the rooms.
Hotel Amiral
It is one of the most affordable accommodation alternatives in the city with its hotel location in the city center of Nantes as well as its price. It attracts attention with its spacious, airy rooms and stylish decoration.
Hotel des Colonies
Located in the Graslin area, the hotel is a historical building from the 19th century. There is a painting exhibition in the lobby of the hotel. There is a stylish and elegant decoration in the rooms. Especially the elephant-shaped teapots in the rooms are very interesting.
L'Hotel
This stylish and clean hotel stands out with its style. The three-star hotel has a simple ambiance. The hotel, which has a total of 31 rooms, only 5 rooms have a terrace with garden view.
Grand Hotel Mercure
The facade of Grand Hotel Mercure attracts attention with its 19th century architecture. However, when you step into this four-star hotel, you encounter a much more modern ambience inside. Art Deco and colonial style draw attention in room decoration. The bar, which is dominated by red and black, is another remarkable place in the hotel.
WHERE TO EAT?
Creperie lle Mysterieuse
Be sure to visit the restaurant in the city where delicious crepes are made. You will enjoy its warm atmosphere and Jules Verne-themed decoration.
13 Rue Kervegan, Tel: 00 33 240 474283
La Civelle
It is worth remembering that the restaurant is not open on weekends and you need to take a short ferry ride to get to La Civelle. This stylish and popular riverside bistro is worth a visit. Be sure to try the seafood of the restaurant. The main course price is around 12 Euros.
21 Quai Marcel BoissardTrentemoult, Tel: 00 33 240 754660
Le Square
The newly opened Brasserie has an open kitchen. Innovative flavors are offered at Le Square. For example, if you haven't tried beef lentils with salsa sauce, this is the best place to try it. Be sure to taste the veal fillet blended with cherry sauce.
14 Rue Jemmapes, Tel: 00 33 240 359809
Maison Baron-Lefevre
Maison Baron-Lefevre was established by converting an old fruit and vegetable store into a restaurant. Their food is really delicious. Maison is one of the places to eat during your holiday.
Let it be Baron-Lefevre.
33 Rue de RieuX,
Tel: 00 33 240 892020
L'Atlantide
In this Michelin-starred restaurant, you will love the views of the river, harbor and city as well as delicacies. You should especially try "turbot à la broche" here.
16 Quai Ernest Renaud, Tel: 00 33 240 732323
L'Abelia
The restaurant, which is a little far from the city center, resembles a school building from the 1900s. You will love seafood. When the weather is nice, you can also eat in the garden of the restaurant.
125 Blvd des Poilus, Tel: 00 33 240 354000,
WHERE TO SHOP?
Rue crebillon
The most luxurious clothing stores in the city are located on Rue Crebillon street. You can also visit here for the latest fashion clothing and accessories.
Gautier Debotte
Be sure to stop by this amazing chocolate shop. You will love their gifts and chocolate varieties.
La Friande
In La Friande, you can find all the specialties of the region. Especially don't leave Nantes without buying wine and cheese.
12 Rue Paul Bellamy
Talensac Market
Talensac Market, open since 1937, is a food paradise. The only address where you can find all kinds of fresh fruits, vegetables and food at an affordable price.
PlaceTalensac
NIGHT LIFE
Le Bar du Coin
Apart from the lighting and decoration of the 70s, Le Bar du Coin has a completely traditional bar atmosphere. You can enjoy Nantes nights in this cozy bar.
21 Rue de la Juiverie,
Tel: 00 33 240 475505
Webb Ellis & Co
Webb Ellis & Co can also be called a rugby temple. It is possible to come across all kinds of rugby memories in its decoration. Be sure to try their special beers.
6 Rue Santeuil,
Tel: 00 33 240 697589,
L'Appartement
As the French say, this is a complete bar-loungée. The bar is also famous for its cocktails with African and Asian melodies.
1 Rue Gresset,
Tel: 00 33 240 731151
La Maison Café
You can sip your drink in the kitchen, bedroom or bathroom with its decoration reminiscent of the 70's. Visit La Maison Cafe, one of the rare places where you can have your drink in the comfort of your home.
4 Rue Lebrun, Tel: 00 33 240 370412
Le Floride
Le Floride has been known for a quarter century as Nantes' most famous rock club. Do not leave Nantes without visiting this favorite place of the city.
4 Rue St Domingue,
Tel: 00 33 240 476680
Keep it in your mind
If you love candles, be sure to stop by Devineau in the Bouffay area, where you can find hundreds of candles of all colors and sizes. While you're in Nantes, be sure to try Muscadet wine. For more detailed information about Nantes, you can contact the Nantes Tourism Office or you can visit the address.